Throughout the year, the NT Independent has been keeping an eye on all of you (in a non-creepy way, not using any sort of tracking or listening devices) and we know when you've been naughty and when you've been nice.  As we close in on Christmas, it's time to see who makes the NT Independent's Naughty or Nice list.
Here we have one person fearlessly investigating the government, versus a man at the head of an organisation that promised much but may have been swallowed up by Clown Town.
Each day (in no particular order) we will be bring you a couple on the list to see who get what.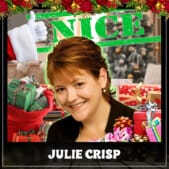 Nice: Auditor-general Julie Crisp
NT Auditor-General Jule Crisp ought to get a big badge because she is really the sheriff in town. ICAC could take a few cues from her investigation of government and the public service.
The content of Ms Crisp's reports paint her as a fearless warrior for Territorians, and she should also be an example to some others in statutory roles in this Clown Town of a jurisdiction, of how they should operate in such a role.
A very recent example was her finding the NT Health Department violated government procurement policies when awarding a $700,000 consultancy contract to Ernst and Young that ballooned to more than $4.3 million after multiple variations. It involved the Health Minister lying that "emergency procurement exemptions" were used so it did not have to go to public tender.
It has now been referred to ICAC.
Last year, she found the financial figures released by then-treasurer Nicole Manison and Chief Minister Michael Gunner in their "COVID-19 Financial Report" on July 29 – a day before they went into caretaker mode – were inaccurate, misleading and breached the law.
This year, her work also included finding the Gunner Government's suite of COVID-19 stimulus programs introduced last year that cost Territory taxpayers hundreds of millions of dollars, had a host of serious problems, including setting aside money for senior public servant Shaun Drabsch to award at his discretion.
If you put her body of work of what she has exposed (without screwing up the process), directly up against what ICAC has done over the same period, Ms Crisp wins the battle of the watchdogs.
Now, if we could only make her the Police Commissioner or head of the DPP – or give her prosecutorial powers – there might finally be big trouble for wrongdoers in little Clown Town.
Read: For more of the Naughty or Nice list
CLICK: Naughty or Nice list – Some altruists versus a #$!*ing abusive leader 
CLICK: Naughty or Nice – Cop of the year versus bad cop, bad cop routine

Naughty: Former independent corruption commissioner Ken Fleming
Independent commissioner against corruption Ken Fleming, who retired in July, had some highs and some inglorious lows.
OICAC's reputation has been damaged, partly because of some mis-steps, and perceived lack of action.
ICAC gave hope for consequences in this outback Gotham City but three years on there are questions, and sometimes great disillusionment.
The Darwin Turf Club report was a high, a big sign there may be consequences for wrongdoing, but it could have gone further, and allowed Chief Minister Michael Gunner to claim Cabinet had been absolved of any wrongdoing – which the report absolutely did not say. And there may also be other issues as a number of parties have taken court action.
Mr Fleming was forced to publicly retract a corruption report and apologise to two former City of Darwin employees who were not afforded "natural justice" during their investigation.
He also threatened an investigation into whistleblowers from his own office when asked in Estimates hearings about reports his office was being investigated by ICAC Inspector Bruce McClintock for awarding investigative contracts to the "domestic partner" of the investigations director.
Mr McClintock found no evidence of wrongdoing but he raised issues of alleged "bullying and intimidation" in the Office of the ICAC and employees complaining about fears of "retribution" for speaking out.
Sky News also recently reported the NT Police have launched an investigation "into allegations of misconduct" in the office.
Then there was the perceived threat against a journalist when Mr Fleming told Estimates the protection of journalists' sources – identified in the Evidence Act – did not extend to the ICAC Act.
And a public account by NT News journalist Jason Walls of being cross examined by Mr Fleming to reveal a source.
For ICAC overall, there is also the mystery of what happened to the report into Batchelor Institute, and the suspension of the investigation into Labor MLA Mark Turner for misleading parliament, without making that decision public.
And the failure to find wrongdoing in an investigation into improper conduct allegations against two senior public servants over the manipulation of a procurement contract despite an internal report finding their actions to be "not defensible".
Prime Minister Scott Morrison could perhaps point to the NT as a reason not to establish a federal ICAC.
(Visited 1,506 times, 1 visits today)