Throughout the year, the NT Independent has been keeping an eye on all of you (in a non-creepy way, not using any sort of tracking or listening devices) and we know when you've been naughty and when you've been nice.  As we close in on Christmas, it's time to see who makes the NT Independent's Naughty or Nice list.
Here we have some Territorians promoting other Territorians, versus a man whose job it was to expose the truth, who promised to suppress it for a mate.
Each day (in no particular order) we will be bring you a couple on the list to see who get what.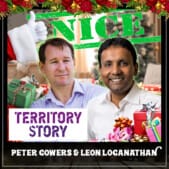 Nice: Leon Loganathan and Peter Gowers
Lawyer Leon Loganathan and real estate agent and digital marketer Peter Gowers host the Territory Story podcast. About half the podcasts are weekly interviews with Territorians, shooting the breeze with their guests about their lives, where and how in the NT they were brought up, or what brought them to the Territory and what they love about it.
They have the casualness of a chat at the pub, but also come with an element of probing intensity when necessary. They give backstories to well-known Territorians but also put a warm focus on unsung Territorians.
Leon and Peter have done more than 200 episodes with some fascinating insights and perspectives with people from all aspects of life in the Territory. If the many of the solutions provided by the people who they interview who are experts in their fields were enacted, the NT would be a much more functional place.
They do an excellent job in bringing many different perspectives and problems to light and are a positive force in the media in the NT, even as they come to terms with their role in it.
Leon and Pete have hosted a "Weekends with Walshy" edition each week with NT Independent editor Chris Walsh where they analyse and comment on the news of the week, and get into some of the backstory. They host Chris each week because of the Gunner Government's ban on the paper, to provide solidarity in the fight for the free press in the NT.
Naughty: Former NT News editor Matt Williams
Being referenced in an ICAC report, even if you are not directly named, for promising favourable coverage to the head of an organisation at the heart of a public scandal should really be the end for you as an editor.
But this is News Corp we're talking about, where that kind of behaviour is grounds for promotion. Matt Williams is now in Melbourne running a national gambling website, having been moved from the NT News in the weeks before the ICAC report was released.
We don't know what News Corp knew about what ICAC knew about him before he got his new job, but they took to the front page of The Australian to attack ICAC for its "hatchet job" on poor Mr Williams many weeks after the facts were presented.
"Will do my absolute best to put a stop to this [grandstand scandal coverage] and you can count on us to deliver plenty of positivity when the grandstand opens," Williams wrote to Turf Club chair Brett Dixon as public outrage reached fever pitch in 2019, according to the corruption report.
"I can understand how tough this has been on you. The NT News, especially since I've been in charge, has been a big supporter of racing and we will continue to be."
The NT Independent was the only media outlet to name Mr Williams and sought comment from News Corp about the illustrious editor at the time. It took the company another month before they started denying he gave favourable coverage, which suited their agenda with an attack on ICAC, founded on unhinged and unproven claims.
The paper's general manager Greg Thomson has also been promoted to Sydney this year after a less than stellar performance in the Darwin Supreme court back in 2018, during the Chris Deutrom affair, where it was revealed Thomson had provided inconsistent statements to investigators and had to be treated as an "unfavourable witness" by the prosecution. News Corp considers that grounds for promotion.
Is it any wonder why the Gunner Government and the NT News are such a perfect fit?
(Visited 964 times, 1 visits today)