Throughout the year, the NT Independent has been keeping an eye on all of you, and we know when you've been naughty and when you've been nice. As we close in on Christmas, it's time to see who makes the NT Independent's Naughty or Nice list. Who is getting a present? Who is getting coal in the Christmas stocking?
Each day (in no particular order) we will be bring you a couple on the list to see who get what.
Nice: Police Officer of the Year Brodie Anderson and all frontline emergency workers
We kick off this year's naughty and nice list with Senior Constable Brodie Anderson.
Snr Const Anderson is based in Alice Springs, currently working as a welfare officer, who won police officer of the year for 2021 for her tremendous contributions to the community.
While a well-deserved honour, for some reason, there's only one award to be handed out to police for the year. We think there should be more. And we think all frontline police, fire and emergency workers deserve acknowledgement for all their hard work this year keeping us all safe in difficult circumstances. And for having to deal with their executive leadership team on a daily basis who make the job all the more difficult.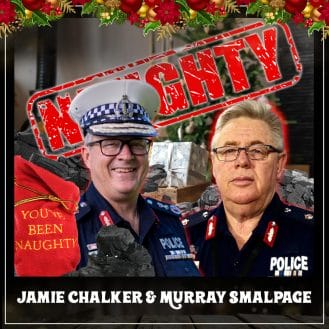 Naughty: Jamie Chalker and Murray Smalpage
Starting off the Naughty list and only getting coal this Christmas is Murray Smalpage and his fearless leader Jamie Chalker.
Smalpage makes the naughty list for calling his own police officers "a murder" while accidently filming himself live to Facebook. But don't worry there were no consequences for the gaffe after Chalker determined everyone should just love one another (he actually said that).
Mr Chalker has had an annus horribilis really. While he would get credit for the force's huge role in overseeing the COVID-19 border monitoring, there are so many low points.
These include Zach Rolfe's defence team's allegation he had a crucial report prepared for the coroner about the shooting of Kumanjayi Walker, "seized" "edited", and later "buried". Mr Chalker then tried to have it suppressed from publication.
You can also add the record police attrition rate, a staff experience crisis, two investigations into the NT Independent – one to find leaks which embarrassed him, the other on the word of a man who had adverse findings made against him by ICAC –  the recent treatment of Sergeant Leith Phillips, police suppression of sex crime information, distributing court-suppressed material, and his denial of serious training issues at the Police College. He is lucky we don't like long lists.
Together, Chalker and Smalpage have really honed their 'bad cop, bad cop' routine amongst their underlings this year.
(Visited 1,352 times, 1 visits today)