Throughout the year, the NT Independent has been keeping an eye on all of you (in a non-creepy way, nor using any sort of tracking or listening devices,) and we know when you've been naughty and when you've been nice.  As we close in on Christmas, it's time to see who makes the NT Independent's Naughty or Nice list.
Here we have some selfless locals who came to the rescue of their town, versus a man who kept putting his hand out for more, despite the accusations against him, and ultimately refused to apologise.
Each day (in no particular order) we will be bring you a couple on the list to see who get what.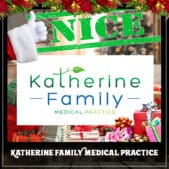 Nice: Katherine Family Medical Practice owners
A group of five Katherine families announced earlier in the year they would step in and start the Katherine Family Medical Practice.
In October last year, the town's only private practice, Gorge Health, closed, leaving about 8,000 residents without a regular GP clinic.
They faced the prospect of a three hour drive to Darwin, with the NT Government promising and faffing around. Promising and faffing around.
Northern Territory Australian Medical Association president Dr Robert Parker feared it would be a crisis for Katherine.
At the time of opening practice manager Melanie Usher said it was not about altruism, it was about their own needs being met.
But it has a fair ring of altruism despite their denial.
And while they did not reveal all the names behind it at the time of the announcement, the NT Independent can tell you the nice listers are (in no particular order) Melanie and her partner Jeff Usher, Phil and Steph Jazyschyn, Robert and Sharon Buzzo, Wayne Nayda, and Shannon Lingard and Brad Buckley.
Click here to see Wednesday's Naughty or Nice list – the recognised good cops versus the 'bad cop, bad cop' routine
Naughty: Former NT Treaty Commissioner Mick Dodson
Mick Dobson ably took the mantle of Sweary Mick from the chief minister after he retired the character after the Territory election.
The NT Treaty Commissioner, who was pulling in close to $300k a year, was accused of calling Yothu Yindi Foundation boss Denise Bowden a "slut" and threatened to "knock her f**king lights out" at a football game.
The government investigated but then didn't release the findings even after it all became public through a Sky News report. It was after the spotlight was shone, Original Sweary Mick decided he had "lost confidence" in Mr Dodson.
New Sweary Mick refused to leave his job, and took sick leave. His lawyer neither confirmed nor denied the allegations, but said Mr Dodson was suffering from PTSD and needed to be left alone while keeping his job.
He then obviously came to an arrangement with the government to leave.
Which he did. Without apologising.
But likely with many more taxpayers dollars in his pocket, and obviously no shame.
(Visited 1,209 times, 1 visits today)