UPDATED: Chief Minister Michael Gunner has announced another "Team Territory" today – this time one that will aim to provide a crucial roadmap to economic recovery post-coronavirus.
Mr Gunner has come under fire in recent days for failing to provide Territorians with an economic recovery plan, insisting he was too busy dealing with the health consequences of the pandemic to focus on the future economic realities of the Northern Territory as it makes its way out of shutdown.
It remains unclear who will be appointed to the newest "Team Territory", but older incarnations included former Labor ministers and government hand-picked business people.
"The (economic) comeback starts today," Mr Gunner said. "I am creating the Territory's economic reconstruction commission, it will report to me and it serve the Northern Territory."
But Mr Gunner said he won't announce who is on the commission until next week.
"If there ever has been a Team Territory moment, it is now," he said. "I am looking for a team of Territory champions, the best of the best."
Mr Gunner added the reconstruction will include the whole Territory.
Earlier this week, five industry peak bodies including the Chamber of Commerce, Darwin Major Business Group, Master Builders NT, the NT Cattlemen's Association and the Minerals Council of Australia NT called on Mr Gunner to strike a commission with decision-making powers to get the Territory's economy jump-started.
RELATED: Economic report showed the economy in heavy decline before COVID-19
The groups expressed frustrations over the Gunner Government's failure to revitalise the economy pre-coronavirus and held grave concerns for the future of the NT's economic prospects if left to the Gunner Government to sort out on its own.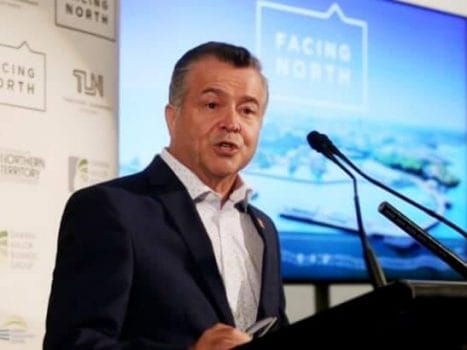 Darwin Major Business Group CEO Ian Kew told the NT Independent this week that Mr Gunner was being optimistic when he said the NT's economy would "bounce back" easily.
He called on the government to finally listen to the local business community to develop a proper economic recovery plan.
"We think with economic recovery, the government needs to listen to people who understand investment, creating jobs and growing the economy," he said. "We aren't going to bounce back like nothing happened."
Mr Gunner said the idea of a "Team Territory" economic recovery commission had been in the works since March. He had not mentioned it before now.
It's expected the "Team Territory" commission will provide recommendations around job-creating projects, securing private investment in the NT, strategies for upskilling workers and working with the business sector to grow private enterprises.
(Visited 120 times, 1 visits today)