By Carl Pfeiffer
Alice Springs Town Council's Mayor and Deputy Mayor have both declared conflicts of interest over the NT Government's plans to compulsory acquire Anzac Oval to build the National Aboriginal Art Gallery.
Mayor Damien Ryan and Deputy Mayor Matt Paterson are both candidates in the upcoming Territory election and said they would no longer be participating in discussions surrounding the project.
Mr Paterson, Territory Alliance's candidate for Namatjira, released a statement declaring his intentions on the weekend, before Mr Ryan, who is running for the CLP in Araluen, confirmed he would be taking a similar stance On Monday morning.    
In two separate press releases issued on Wednesday, the government announced the Lhere Artepe Aboriginal Corporation had provided a letter of support to construct the art gallery at Anzac Oval, while also announcing it had signed an Indigenous Land Use Agreement (ILUA) with the corporation.
However a statement by the Mparntwe custodians in the following days, supplied to the NT Independent, stated that they do not consent to the development of the gallery at the government's preferred Anzac Oval site, and said they were upset by the government's movements while they grieved the loss of family members.
The announcements come following comments made on ABC radio by Families Minister Dale Wakefield last week, who accused Alice Springs councillors of putting politics ahead of progress over the gallery issue.
"When it comes to the battle between the NT Government and the Alice Springs Town Council over the repurposing of Anzac Oval as the site for the NAAG, I believe I have a perceived conflict of interest due to Minister Wakefield's accusation of members 'politicking their decision'.
"I have taken on board the advice given to council on conflicts of interests over the past six months and as a candidate in the upcoming Territory election, I am acutely aware of the perception of, and actual, conflicts of interest," Mr Paterson stated.
"The last thing I want to do is have the government attack the integrity of a council process. For this reason, I will remove myself from all deliberations and decisions on this issue until after the NT general election on 22nd August 2020."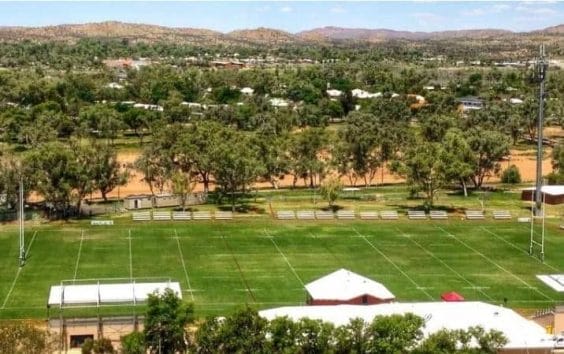 While he confirmed he wouldn't be participating on future discussions surrounding the site, Mr Paterson made his views on the issue clear.
"In the current economic and fiscal crises the timing is not right to bulldoze $5 million of infrastructure built on Anzac Oval five years ago," he said.
"Many residents are strongly against the oval being repurposed for the gallery.
"We question whether the destruction, waste and anguish caused by repurposing Anzac Oval for the gallery is really worth it, particularly when there are other suitable, less controversial sites."
(Visited 260 times, 1 visits today)