A man claiming to be a member of the Fishermen United Northern Territory Guild has had his personalised number plate suggestions FU GUNER and FU NTG knocked back by the Motor Vehicle Registry on the basis they "could be considered offensive".
Katherine electrician Geoff Anderson said he was "devastated" by the decisions and could not understand why the Gunner Government would discriminate against a humble group of fishing aficionados.
"I don't understand how such an inclusive government would blatantly discriminate against our dead fishing mate," he said.
"And an association of people who come together for the pursuit of the peaceful, common goal of recreational fishing, which is almost like a religion here in the Territory.
"This really should be viewed as an assault on religious freedom. Religious freedom is protected to some extent in section 116 of the Australian Constitution.
"We probably will look to get some flashy silk, or better still, some cheap Darwin pettifogger, to see if we can take this all the way to the High Court. It's prohibiting the free exercise of my religion. It's the vibe of it. It's the Constitution. It's Mabo. It's justice. It's law. It's the vibe and ah, no that's it.
"Blessed are the fishermen."
In his first email to the MVR supporting his application, Mr Anderson wrote: "We are a small group of keen anglers (and drinkers!!) based in Katherine & Darwin called Fisherman's United. We have a private annual event where we invite other interstate Fisherman's United groups to the NT for an unofficial fishing (and drinking) competition. This year we have invited the QLD Guild to compete (drink!!) at Timber Creek on the Vic River….
"This year we have decided to personalise our tow vehicle (booze bus!) with new number plates to try to intimidate our QLD rivals (drinking buddies)… We figure we may as well look the part if nothing else!!!"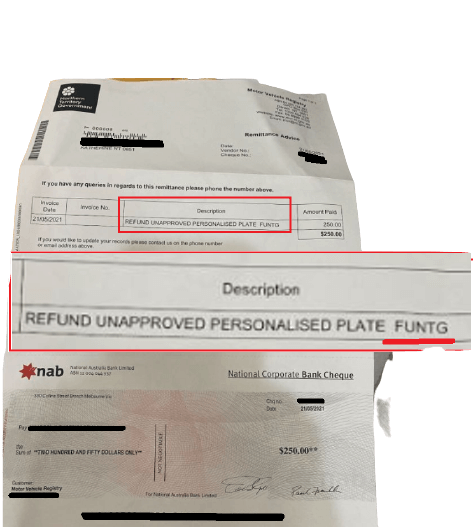 The sober response from MVR purchasing and supplies officer Linda Rasmussen went as follows: "Your Personalised plate application is Rejected as combinations of letters that represent Government Departments and authorities are restricted."
But the FUNTG were not defeated and emailed again with a different number plate request.
"Hi Linda. Sorry, we didn't realise the relationship with NT Government. I have spoken with the other members of the club. They have requested a different combination in memory of a past member. Can we get FU GUNER. Graham Gunn died last year of a heart attack. The club thinks it would be a nice tribute," he wrote.
The application was escalated to a more senior public servant and an explanation was given that FU GUNER could be considered offensive by members of the public.
"Good Afternoon Geoff, Further to your application regarding personalised plates FU*GUNER. Approval of personalised plates is considered by an assessment panel based on approved guidelines. Please be advised your application was assessed and rejected by the panel," acting senior registration officer Roxanne Flores wrote.
"The Motor Vehicle Registry (MVR) takes into consideration how personalised plates can be perceived by members of the Public. The term 'FU*GUNER' may be perceived as having a derogatory meaning and may likely cause offence to the wider community.
"All personalised plates applications are assessed by MVR on a case by case basis and must stand on its own merits before it is approved. You may submit a different application or obtain a full refund on your application fee as mentioned in our previous email."
Mr Anderson once again came up with a personalised number plate that he thought might satisfy the MVR's requirement for not offending some members of the public.
"Hi Roxanne, Thank you for your reply. I suppose FU*Gov is out of the question then???"
The Guild was once again disappointed.
"Hi Geoff, Yes, that is also rejected."
And that was the point he realised he had been crushed by the bureaucracy.
"Hi Roxanne, Can you please refund for the personalised plate as I can't seem to get the combinations that I wanted."
(Visited 2,553 times, 1 visits today)