Deputy Police Commissioner Murray Smalpage needs to stand aside while an independent investigation into comments he made that were accidentally live-streamed across social media is completed, the union representing the NT's police officers says.
Mr Smalpage "inadvertently" recorded himself telling a group of executive police staff that the collective noun for a group of police officers should be "a murder" while on his way to a meeting with Professional Standards Command officer Bruce Porter that was posted to Facebook.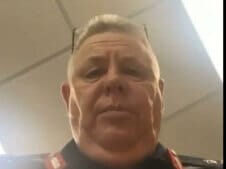 The video, which was streamed live, shared and viewed, showed Mr Smalpage entering an executive police office while those in attendance discussed the collective noun for officers.
A female staffer is heard suggesting "a mess of officers" would be appropriate, when Mr Smalpage interjects to suggest "a murder" of officers would be the preferred noun before laughing and heading down a hall.
He then appears to say in the short video that he should be paid more to another staffer, before sitting down in an executive level meeting to "get down to the business at hand", as police media described it.
NT Police Constable Zach Rolfe is currently facing charges for the alleged murder of Yuendumu teen Kumanjayi Walker in November 2019, in a matter that has caused strife within the police ranks. Rolfe has pleaded not guilty and after many delays the trial is set for early next year.
The "murder" comment has been widely criticised as offensive by some officers.
NT Police Association president Paul McCue said while it was clear that Mr Smalpage accidentally streamed the video, his intent is irrelevant because the potential for "reputational damage" to the NT Police was done as soon as it was broadcast.
"Our office [has] been inundated with complaints regarding the video, and we are yet to hear what the Commissioner will determine should happen," Mr McCue said.
"It is clear from our feedback; they want to hear from the Commissioner on this issue".
Mr McCue said Police Commissioner Jamie Chalker must investigate the matter and explain "what action he intends to take given the reputational damage to the police force following the careless release of this video".
He said that rank-and-file officers are regularly subjected to disciplinary proceedings for issues similar to Mr Smalpage's social media post and that the police brass should be held to the same standards.
"Until such time as that investigation is carried out, Deputy Commissioner Smalpage ought to stand aside from his current position to provide clear transparency and avoid any conflict of interest perceptions", Mr McCue said.
Smalpage apologises for how his remarks were 'construed' not that he made them: Police members
Mr Smalpage appeared to apologise in a statement issued by the NT Police media team Sunday afternoon, in which he said his comments were not "intended to be in the context that some others appear to be directing them".
"I am deeply committed to the Northern Territory police force and all its members," the statement quoted him as saying.
"Our members work incredibly hard every day to serve and protect our community.
"Again, I apologise if my remarks were construed in any other way than as part of a chat before getting down to the business at hand."
Officers the NT Independent spoke with yesterday said Mr Smalpage's comments were offensive and typical of the police executive's philosophy of putting themselves ahead of frontline officers.
"To make fun of a police officer who is on trial for his life … is the most disgusting and despicable act and the deputy commissioner of police should've known better," one officer said.
"His [Smalpage's] position is untenable and he should resign in disgrace or be dismissed for breaching his own social media policy."
Mr Chalker has not responded to questions.
(Visited 1,471 times, 1 visits today)