The high-flying senior NT bureaucrat who charged taxpayers for a trip to Disney World late last year also charged Territorians $12,500 for a week-long trip to Hawaii earlier this year to attend a three-day conference, the NT Independent can reveal.
Andy Cowan, the deputy chief executive of the Department of Chief Minister, flew to a flash resort in Honolulu in January at taxpayer expense for the Pacific Telecommunication Council's (PTC) annual conference, travel records show.
A breakdown of how the $12,500 was spent on the Hawaii junket was not provided, but it's understood taxpayers paid for Mr Cowan's accommodation for five nights at the Hilton Hawaiian Village, Waikiki Beach Resort, that offers "one of the best luaus on the island" as well as hula and lei-making lessons and the "widest stretch of beach in Waikiki".
The historically-listed resort is regularly featured on the television show Hawaii Five-O and was the set of the Elvis Presley movie Blue Hawaii.
Records show Mr Cowan stayed in Hawaii for five nights and six days at taxpayer expense despite the conference only lasting three days.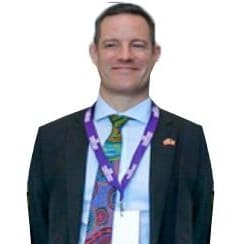 The Hawaii trip, on top of the earlier US-Disney trip, adds up to $41,000 for two trips in just under two months for Mr Cowan to pursue his pet project of establishing a "commercial data centre hub" in Darwin that has yet to attract any private investment.
The government says the concept, if found to be viable, could include "multiple subsea cables linking Darwin with Singapore, Indonesia, other regional centres in Asia" that would "transform Darwin into a digital gateway to the rest of the world".
The PTC Hawaii conference offered seminars and luncheon workshops with subsea cable experts, as well as "soirees" on the resort grounds and other networking events.
"PTC's Annual Conference is a strategic springboard for the global communications industry, providing all attendees with a three-day platform to focus on planning, networking, and discovering what lies ahead for the ICT industry," according to a pitch for the 2020 conference.
A report detailing what benefit Territorians received for their $12,500 was not provided. Mr Cowan also declined to comment on the trip.
Andy Cowan's taxpayer-funded trip to Disney World still unexplained
The NT Independent revealed on Sunday that Mr Cowan charged taxpayers for a trip to Epcot Centre at Disney World in Orlando, Florida last November – a theme park known as the "experimental prototype city of tomorrow".
It was part of a nearly $30,000 voyage across the United States to spruik the data centre proposal to potential investors and other unknown parties.
Territory taxpayers also paid a further $27,000 for two others to accompany Mr Cowan on the first leg of the trip, including a retired US marine and an information technology "expert". Their reasons for being on the trip were not explained.
Mr Cowan told the NT Independent the Disney World excursion's costs "were under $1000 and are being reimbursed by Kakadu Tourism" – eight months after the trip.
He also claimed the Disney World trip was "at the request of the Chair of Kakadu Tourism to support a board member visiting the Epcot Centre".
Kakadu Tourism have not returned phone calls.
Chief Minister Michael Gunner approved $41,000 bill for two trips in three months
Mr Cowan's two jaunts to the US in two months cost taxpayers a combined $41,000.
All international travel for senior executives in DCM is approved by Chief Minister Michael Gunner.
Mr Gunner did not respond to the NT Independent's questions, including why he approved the trip to Disney World and the trip to Honolulu or what benefits taxpayers received for the money spent on Mr Cowan's trips.
Mr Gunner also would not say if Mr Cowan would be asked to pay taxpayers back out of his own pocket for the Disney World excursion. It's understood Mr Cowan is on a pay packet in excess of $200,000 a year.
The NT public service Code of Conduct states that the expenditure of public funds should be taken seriously and public servants should always "seek to obtain value for public money spent and avoid waste or excessive use of public resources."
Mr Gunner and Mr Cowan declined to explain how a trip to Disney World was a proper use of taxpayer money and why taxpayers paid for six days in Hawaii for a conference that lasted three days.
(Visited 2,325 times, 1 visits today)