The Territory's second-most powerful public servant took a taxpayer funded excursion to Disney World while on a mysterious trip to the United States late last year that he now claims will be reimbursed to taxpayers, the NT Independent can reveal.
Department of Chief Minister deputy chief executive Andy Cowan charged taxpayers $29,000 for the trip to the US last November that included stops in San Francisco, Seattle and Washington, DC, as well as a solo jaunt to Epcot Centre in Orlando, Florida – a Disney theme park known as the "Experimental Prototype City Of Tomorrow" that offers exciting rides "around the globe, under the sea and into outer space", and the chance to meet Disney characters.
Mr Cowan refused to explain the nature of the bulk of the trip, but it's understood it related to a pet project involving a proposed "commercial data centre park" in Darwin that has yet to attract any private investment.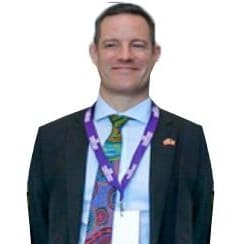 Taxpayers also paid for retired American marine John Wissler to attend meetings in the US cities with Mr Cowan and another man named Verghese Jacob – a former WA bureaucrat and self-employed information technology "expert" who was awarded an NT Government contract last year that did not go to market.
Mr Jacob's flights, accomodation and expenses cost Territory taxpayers $13,968 for three days while Mr Wissler's tab ran $12,429 for four days. Those costs only included US travel and expenses, while Mr Cowan's total of nearly $30,000 included what appears to be business or first-class flights to the US and back.
Government documents list the official reason for the trip as: "Data Centres and Sub-sea Cable Marketing sounding and Promotion [sic]", however the NT Independent understands more specifically the trip was to seek private investment in an internet based data centre project the NT Government is spruiking that would see "multiple subsea cables linking Darwin with Singapore, Indonesia, other regional centres in Asia" that would "transform Darwin into a digital gateway to the rest of the world".
Who the men met with while on official taxpayer funded business was not disclosed, although it appears from documents that Infrastructure Minister Eva Lawler crossed paths with the trio in Seattle and San Francisco while on a US "study trip" of her own.
Costs of public servant's massive taxpayer funded trip only now 'being reimbursed' – eight months later
Documents show Mr Jacob and Mr Wissler departed Mr Cowan's company on or around November 21, 2019, after the business part of the trip was complete. But Mr Cowan then booked a flight to Disney World in Orlando before returning to Darwin, the total costs of which were not broken down in the documents provided.
Mr Cowan, who disobeyed Gunner Government protocol by responding to questions from the NT Independent, said in an email he needed to go to Disney World to "support" a Kakadu tourism board member who was visiting the Epcot Centre theme park.
"The Orlando leg of the trip was business undertaken at the request of the Chair of Kakadu Tourism to support a board member visiting the Epcot Centre," Mr Cowan said in the email.
"Trip costs were under $1,000 and are being reimbursed by Kakadu Tourism. I attended as chair of the Jabiru and Kakadu Taskforce."
The Kakadu Tourism board did not respond to repeated requests for comment to confirm Mr Cowan's story. The board is funded by the Federal Government.
Mr Cowan refused to explain why a Kakadu Tourism board member and the NT's second most senior public servant were at Disney World together – and why the costs borne by Territory taxpayers are only now "being reimbursed", eight months after the trip.
Infrastructure Minister Eva Lawler's 10-day trip substantially less than Andy Cowan's
Government records show Infrastructure Minister Eva Lawler may have met with the three men while on a US trip of her own, to observe fracking operations in Texas and "digital capabilities and investment opportunities" in San Francisco and Seattle. Ms Lawler also went to Philadelphia and Pittsburgh for unexplained reasons last November.
Ms Lawler's trip cost taxpayers $20,543, which was significantly less than the $28,502 taxpayers shelled out for Mr Cowan for a trip of the same duration.
A press release dated November 11, 2019 outlining part of the nature of Ms Lawler's trip stated that, "The Northern Territory Government is positioning Darwin as an international data transit location between Australia's east coast and major commercial and population centres in South East Asia and North America. This would be the first direct subsea cable system link, that has the opportunity to provide Darwin with high speed, secure low latency links to Asia and North America."
It's understood no firm offers of investment have been received for the project to date.
Mr Wissler sits on the Gunner Government's defence advisory taskforce and is based in the US. Mr Jacob runs an Australian company called FMevolution which was awarded a $75,000 NT Government consultancy contract that didn't go to market in June 2019 to provide consultancy services relating to the data centre proposal.
Both men declined to comment for this story.
The total expenses picked up by taxpayers of Mr Cowan's trip were not detailed in the information provided, which typically includes break downs of costs including flights, accommodation, incidentals and "hospitality".
He declined the NT Independent's request for further information.
(Visited 3,147 times, 1 visits today)