The Gunner Government has billed Territory taxpayers $121 million over the last three years to outsource general government responsibilities and internal decision-making to private consultancy firms, an NT Independent analysis has revealed.
Released NT Government figures show a massive 65 per cent spike in spending in private consultancy contracts over the last financial year alone, jumping from $33.6 million in 2018-19 to more than $55 million in 2019-20.
The rise in the use of private consultants comes as NT public service employment numbers increased slightly in the March quarter to remain at roughly 21,500 while the net debt officially remains forecast to hit $8.2 billion by the end of this financial year.
According to government documents, the Department of Infrastructure, Planning and Logistics led all departmental spending on consultancy contracts by a wide margin over the last three years, racking up $44.2 million in costs.
The much-maligned Power and Water Corporation was next, spending just over $25 million over the three years, followed by Territory Generation at $10.2 million, including contracts to private firms for "project management" responsibilities.
The Department of Trade, Business and Innovation was fourth on the list, spending $8.3 million on consultancy contracts, including for developing "business cases" for pet projects.
The Department of Health spent $7.4 million on consultants since the start of the 2017-18 financial year and Department of Treasury and Finance spent nearly $7 million on private experts – the bulk of which came in the 2018-19 financial year – as the Gunner Government publicly revealed the spiralling financial crisis and economic downturn.
In January 2019 – a month after disclosing the financial crisis – Treasury paid 18 different consultancy companies $220,000 each for economic "advice" for a period of three years, costing taxpayers nearly $4 million.
Millions spent on consultancy contracts for everything from dolphin monitoring to basic department project management
The consultancy contracts across all departments ranged from engineering services to developing "masterplans" to building-design work to walking-trail designs to basic project management of important programs to initiating departmental program reforms to monitoring dolphins to community outreach programs, and even to developing "leadership strategies" for departments already staffed at record levels.
Long-time NT political analyst Ken Parish said some of the contracts were for specialist services that needed to be outsourced because the public service simply did not have the required skill-set, but most were questionable.
"There are one-off things where you wouldn't necessarily expect the expertise to be held in the public service and it doesn't make sense to expand the public service if it's only a one-off matter," he said.
"But most of the consultancy contracts here are ones where you would expect the expertise to be held within the public service."
Mr Parish said the ever-increasing NT public service – now comparable in numbers to both the ACT and Tasmania despite a much smaller population – needed to be able to handle basic departmental management and governance issues without having to outsource to private firms.
"There's plenty of public servants to do most of these things and they're the sorts of things you would expect public servants to be able to do," he said.
"And there's also plenty of supervisory resources because we have a senior executive service much larger than either Tasmania or the ACT.
"On the face of it, this looks like yet another example of serious waste on the part of the Northern Territory Labor Government."
Private consultancy firms paid tens of millions for basic public service work, including developing housing strategy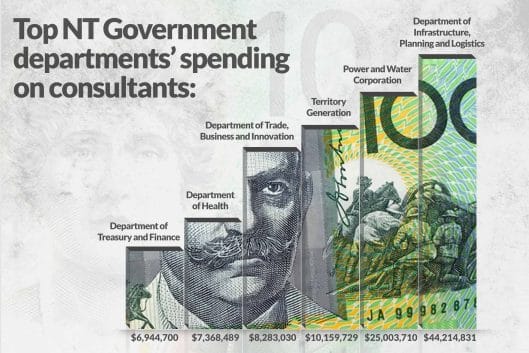 KPMG was the biggest recipient of NT Government consultancy contracts over the last three years, raking in $8.3 million of taxpayer money for a variety of contracts including a $500,000 contract to advise the government on what infrastructure they will need to develop the onshore gas industry, a $218,000 contract to develop the government's housing strategy for them and another study to produce the government's economic development framework.
There was another $345,000 to develop an "operating model" for the Territory's prisons.
They also received $1 million in 2018 to produce a "return to budget" strategy for the Department of Health that has so far not met that lofty goal.
KPMG also won a $1.2 million contract with Power and Water to supply "internal audit and other professional services" for three years in June 2018.
A multi-national consultancy company called GHD was the second biggest winner in the NT Government consultancy contracts sweeps, taking in $7.9 million worth of contracts across a range of departments. Those contracts included $87,000 for a Darwin "traffic study", $373,000 to design shade structures and cooling initiatives in Alice Springs and $204,000 to develop a business case for "gallery extensions in regional centres".
It also received a cut of a multi-million dollar contract to act as project manager for a housing program.
The third highest paid consultancy company over the last three years was a Canberra outfit called DQA that was awarded a $6.4 million contract from Power and Water Corporation earlier this year for something called "transformation office and core capabilities technical program" – which was such a major project that KPMG was awarded a $3 million contract for the same project, with Ernst & Young picking up a $1.7 million contract to work on it as well.
Deloitte Touche Tohmatsu was the government's fourth favourite consultant, taking in $3.3 million in contracts since 2017.
Rounding out the top 12 private firms awarded the highest contracts were Bennett Design, Jacobs Group, Ernst & Young, Pricewaterhouse Coopers, Cardno NT Pty Ltd, Accenture Australia, Aurecon Australasia and the mysterious Alice Springs-based Ekistica Pty Ltd.
Why the increase in consultancy contracts in the midst of a financial crisis and when the public service is larger than ever?
The rise of private consultancy contracts during this time of financial uncertainty is somewhat baffling, Mr Parish said.
He pointed to Victoria, that cut its public servant numbers significantly over the years, and utilised consultancy contracts to save on the costs of public servants.
"In Victoria, they're papering over the cracks with consultancy contracts," he said. "One of the reasons they had a healthy budget (pre-COVID) was that they over-cut the public service.
"What the Northern Territory has done has been to continually grow the public service and then issue consultancy contracts on top of that and then we wonder why we have a huge debt and deficit."
(Visited 2,098 times, 1 visits today)