Historians at the University of Newcastle are mapping Australia's colonial frontier massacres. The team includes Dr Robyn Smith from the Northern Territory who delivered a lecture at Charles Darwin University's Truth Telling webinar series in August. 
Aboriginal people are warned that this piece contains images of deceased Aboriginal people. 
University of Newcastle Frontier Massacres Map: 
https://c21ch.newcastle.edu.au/colonialmassacres/  
The characteristics of massacre 
What the research team has discovered is that there are particular characteristics of massacres. These are not random events, they're not opportunistic barbarism.  
Initially in the Northern Territory reprisal was the culmination of a dispute over water or women. Later, when pastoralists moved in, these became reprisals for the spearing of cattle.  
Think about a water hole somewhere in outback NT towards the end of the Dry season. There is not a lot of water left, and some man lobs on horseback, with a herd of cattle, some goats, some sheep, and they're all very thirsty.  
You can imagine what Aboriginal people are thinking as they're watching their waterhole be engulfed by animals they've never seen before, who were not just drinking from that water, but fouling it, which ruined it as a drinking source.  
The earlier clashes circled around those sorts of things. They're not spontaneous events; they are planned. They are secret. And it's not intended that any witnesses survived to tell the tale.  
The assassins and the victims are known to each other. Again, they're not random. The purpose is to eradicate the victims or force them into submission. Eradication was always preferable because then you could destroy the evidence. 
Generally they're confined to a one geographical space, however in the Northern Territory there were what I call rolling massacres that traversed large geographical areas, and can discretely placed as a series of single massacres all of which were tied to one catalyst that triggered the grisly subsequent events.  
The rolling ones are officially classified as genocidal massacres. And that's the name given to events such as Coniston because that rolled over many weeks and a vast geographical area. But there are others.  
There is a code of silence afterwards, which indicates that people knew that they were either acting illegally, or immorally, or against the laws of the legislature. However, people will often talk about them long after the event and by that I mean both perpetrators and survivors.  
In fact, there are cases where perpetrators actually wrote in newspapers, books, various publications, about what they had done sometimes, 20, 30 or 40 years later. The most reliable evidence of course is provided by the witnesses, perpetrators and survivors, again, long after the event. 
The Northern Territory context 
After McDouall Stuart found an overland route from south to north in 1862, South Australia claimed the Northern Territory as its own. By 1869, George Goyder established a camp in the saddle between Fort Hill and Stokes Hill and that marked the start of white settlement. With that came an intense inter-colonial race to build the overland telegraph line.  
On the Colonial Frontier Massacres map, you will see that the first massacres in the Northern Territory were along the Stuart Highway, heading from the centre, north. That was the overland telegraph construction route. The ones in the Top End to the east and west came later.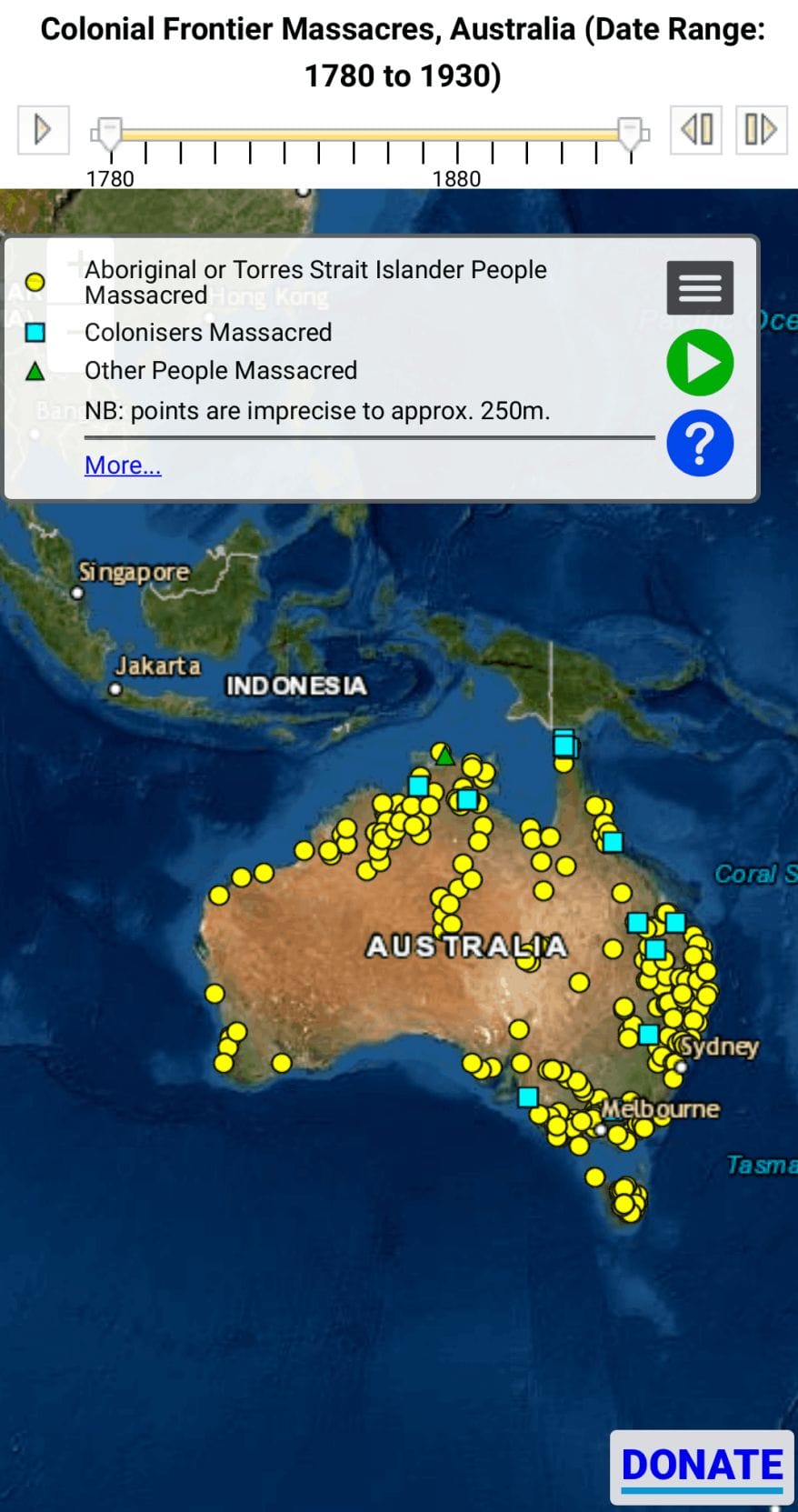 Barrow Creek Massacre
In 1873 workers on the overland telegraph line included J.A.G Little, who was a supervisor. A massacre took place at the Barrow Creek Telegraph Station in 1874. Killed in the initial Aboriginal attack on the station was Little's brother.  
The Aboriginal attack on the station was reported as a barbaric and random event. It wasn't. There are various stories. One is that the telegraph station had been built on a sacred site. Another is that women had been stolen and abused.  
Reprisal was planned. There were two official parties: one was led by Mounted Constable Samuel Gason; the other by J.A.G Little with no police in it, meaning that that the second party led by Little was not subject to police orders.  
In this massacre 11 were recognised as having been officially killed. Some put the total at 50. Some put it at higher than 100. In this case, you have two official parties on horseback with weapons going after people on foot with spears. This endured for at least a couple of weeks.  
On the massacres map, academic rigour requires that we enter the low end of how many we think were killed for this reason: there are some wild variations about how many people were killed. But we can say, quite confidently that at least this number were killed. 
As I mentioned, one of the police involved in the Barrow Creek reprisal was Gason. He is commemorated in a street name in Alice Springs. Little, as I said, was an active participant. And he is commemorated in Northern Territory place names. 
Years later—remember that code of silence—old timer Alec Ross told the story: 
"They sent out messages on the wires everywhere, and the police and parties of men came up from The Tennant and The Alice and from lots of other places. And I can tell you, they did some pretty serious shooting too – taught the blacks a lesson they've never forgotten…and for quite a few more months blacks would get shot in twos and threes in the whole of this district. The blacks had needed a good lesson and they got it right in the neck; they never attacked another white man along the Line after that." 
Mole Hill Massacre
The next massacre is an example of a rolling or genocidal massacre; Mole Hill, Crescent Lagoon, Harris Lagoon, Calder's Range in August and September of 1875. That was a series of massacres all connected to the one event. 
There were two reprisal parties of 10 men. One led by Little and the other by Mounted Constable George Montagu. The death toll was likely in excess of 150 or 200. As I mentioned, Little is commemorated in NT place names. 
Pastoralism
Later massacres came with pastoralism to the east and the west in the Top End. Arnhem Land pastoralism was not so successful because the Yolngu were very effective in pushing back. 
By the time pastoralism spread to the VRD region in the west, the technology of massacres had changed from initially in the southern colonies where you had soldiers who were on foot carrying muskets in places like Tasmania. A musket is a scatter gun that is far more likely to wound than kill. Soldiers on foot were obviously a lot slower than someone on horseback with an automatic weapon.  
Horse transport and automatic weapons were definitely the case by the time pastoralism happened in the Victoria River region. I should say that I have discovered with my colleague, Dr Chris Owen in Western Australia, that that little line on the map that says, 'there's the division between the Northern Territory and Western Australia', didn't mean a thing. 
There were massacres that went over the border from the VRD into the Kimberley. In fact we have one that's directly related to the spearing death of Big Johnny Durack that went from the VRD into the Kimberley, and we think the combined death toll for that was at least 160, which is a very big massacre. 
An Administrator's report to the South Australian government dated 31 December 1884, had a heading 'Aboriginals and settlement'. It read: 
"Mr Lindsay Crawford states that on the Victoria River, the blacks are daring and defiant. On the Limmen River they are spearing his cattle, and that he must take measures to prevent recurrences." 
That can only mean one thing. Bear in mind that in many of these places there was no police presence. There were very few police in the Territory anyway; they were thin on the ground and pastoralists did take matters into their own hands. We'll return to Lindsay Crawford. 
That's one of the problems that we as researchers have with this map because there are very few pastoralists who later brag about how many Aboriginal people they killed. 
Victoria River District
However, Constable William Henry Willshire, whose reputation in Central Australia was formidable, was sent to the VRD. The kindest thing I can say about him is that he was psychologically challenged. As I mentioned, he had been in the Centre where he wreaked havoc. 
He was put on his trial and was found not guilty of murdering Aboriginal people. He was then posted further south in settled districts, which was probably an intentional move to force a lower profile on him. When they were having all this trouble in the Victoria River district, what did they do? They sent Willshire. 
Among many other massacres was Black Gin Creek in 1894, and here I'm quoting from one of Willshire's horrendously immodest books:  
"In the month of June 1894, we came across some tracks of natives that had been recently killing cattle on Victoria run. They scattered in all directions setting fire to the grass on each side of us, throwing occasional spears and yelling at us. It's no use mincing matters, the Martini-Henry carbines at this critical moment were talking English in the silent majesty of those great eternal rocks. The mountain was swathed in a regal robe of fiery grandeur, and its ominous roar was close upon us. The weird awful beauty of the scene held us spellbound for a few seconds." 
He's bragging about a massacre. That extract indicates that not only was he there, but he was its mastermind. You'll note that Willshire was very careful to talk about his own prowess with the rifle, but also very careful not to say how many people he killed. For that reason Black Gin Creek cannot be entered on the map because I can't say whether there were six or 50 killed, and Willshire didn't oblige. 
It is the case that Willshire had the support of most pastoralists in that region. Lindsay Crawford, who was mentioned in the Administrator's report, was the first manager of the VRD station in 1895. He later said:  
"During the last 10 years, in fact, since first white man settled here, we've held no communication with the natives at all, except with the rifle. They've never been allowed near this station or the outstations, being too treacherous and warlike." 
William Willshire is commemorated in Northern Territory place names and interestingly, the Alice Springs Town Council has engaged in community consultation about whether that street name should be changed. The council has no power to make that decision but they can lobby the Place Names Committee to have it changed. It is contentious in Alice Springs.  
Undoolya
 Massacre
Another example of a massacre that can't be entered arises from an interaction between, again, Willshire and the manager of Undoolya station, Alec Ross, in 1887.  
On 15 September 1886, Mr. Ross reported cattle killing on the Ross Creek, asking police to attend. Willshire recorded that in the police journal and said he couldn't attend at once because his colleague, Mounted Constable Erwein Wurmbrand, apparently an Austrian archduke, was absent on duty with two native constables but was expected back soon.  
Willshire left for Undoolya on 29 September, returning on 24 October, having made "inquiries and a search". Nothing more appeared in the journal about the matter until 16 January the following year, when it recorded that MC Willshire and Native Constables Collins and Archie left for Undoolya station to get a bullock, "it being present from Mr. Ross."  
A present? Bullocks were highly prized possessions and they weren't just given away—certainly not for no reason. That bullock was a reward for the police. But because I have no idea how many people were killed during the inquiries and search undertaken by MC Willshire, that massacre can't be entered on the map yet. 
Mr. Ross, however, wrote about massacres in the South Australian Register in 1928.  
"Most of the time, things were very rough and the blacks gave us a lot of trouble among the stock. The same trouble experienced at Owen Springs and all the places mentioned on the Finke. We petitioned the South Australian government to allow the police officer at Alice Springs to organise a body of black trackers to assist the trooper in stopping the cattle killers. This was granted, and six of the best boys from the southern station, were placed under MC Wurmbrand, who had them well drilled in short time. It had a wholesome effect and cattle killing came to an end." 
'Wholesome effect' is a euphemism. 'Dispersal' is another. Erwein Wurmbrand was every bit as lethal as Willshire, but he didn't brag about it. He was far more circumspect and oddly enough, he doesn't have a street named after him anywhere in the NT. There are, however, two places named in his honour, both misspelt and both in close proximity at Anmatjere, north-west of Alice Springs. 
Anna's Reservoir Massacre
Old Timer Harry Tilmouth told the story of the Anna's Reservoir massacre, which happened in 1884, years later in 1967: 
"[Wurmbrand and co] followed the blacks and the blacks went way down…off the 30 mile to a rock on the bottom end of Napperby called Rembrandt Rock, I see the name of the map now. Rembrandt Rock, but it is not Rembrandt's Rock at all, it's Wurmbrandt's Rock. That is where they found them and Wurmbrandt was a pretty savage chap and that is where the turnout took place I believe."
Just to the north-west of that is a place named Wirmbrant Rock. This is not a coincidence. 
Historical records 
So far I've dealt with the European, or white historical records. I want to talk here about Aboriginal historical records and how Aboriginal people record massacres.  
This is a photo taken by Ted Ryko on Bathurst Island between 1910 and 1920. The men are in a military formation, with the front row kneeling and using their spears as rifles to aim and fire, with the back row upright. Those men are far too young to have experienced the conflict that went on with the establishment of Fort Dundas in 1824, but this has been incorporated through oral history into corroboree to be remembered.  
This photo was taken at Rabuna Island off the coast from Millingimbi by Ted Ryko in 1916. It doesn't identify what it is but it is possibly a re-enactment of a Trial Bay incident that was associated with a massacre at a place called Gan Gan. Two European men were killed by Aboriginal people. You can see that they're sneaking up behind them to hit them on the head. It was in reprisal and it would have been for women stealing rather than cattle spearing.  
Bradshaw Station Massacre, 1885
Dr Darrell Lewis wrote in The Victoria River District Doomsday Book that Bradshaw Station in the VRD, survives as oral history.  
"An account of the mass killing of Aborigines on Bradshaw survives as oral history. According to Pauline Rayner (pers. comm.) her father, Peter Murray, who owned Coolibah and Bradshaw from 1958 to 1963 and remained on the station for a further five years, was told the following story by an old Aborigine named Johnson: Bradshaw station had continual trouble with bush blacks breaking into the station store and stealing bags of flour, tobacco and so on. Eventually the station whites decided to leave a bag of flour laced with poison in the store. The bag was stolen and a big mob of Aborigines were poisoned."  
Florida Station Massacre, 1885
There was a similar incident at Florida station, where about 100 Yolngu people died in 1885, once again from poisoning. Richard Trudgen wrote about this:  
'…some months later the pastoralists came with one of their wagons, offering horsemeat to many of the clans…That evening they ate, thanking the pastoralists for their good gifts. It was only when some of the people became violently ill that the Yolngu realised the Balanda had tricked them with some strange sorcery…Members of many clans died that day…Yolngu struck back, fighting with spears against muskets and carbines. Soon the skirmishes became running battles. Men, women and children were killed by the poisoning…" 
Trudgen writes that to this day Yolnu people won't touch horse meat because of that fear of being poisoned lives with them.  
Gan
Gan
M
assacre
,
 1911
Leading up to the Gan Gan massacre a police tracker's female relative from the Roper River region happened upon a men's ceremony and was killed. This massacre was a reprisal by police after the tracker told police where the Yolngu people were. Two survived.  
Galarrwuy Yunupingu described the massacre in an essay in The Monthly in 2016: 
"At Gan Gan these men on horseback performed their duties and killed an entire clan group—men, women and children. They shot them out and killed them in any way they could so that they could take the land. These men on horseback then rode to Birany Birany and killed many of our Yarrwidi Gumatj, the saltwater people who cared for the great ceremonies at Birany Birany. There are few places in our lives as sacred as Gan Gan—from its fresh waters all things come—and Birany Birany."  
Bronwyn Wuyuwa Yunupingu wrote about Gan Gan in A True Bad Story, and she said that while the men were away at the ceremony, women and children were in the camp.  
"None of them knew that a party of men with guns were riding towards the camp on horses. They were led by a man named Bilani, also known as Bill Harney [not the Wardaman Bill Harney], a yella-fella from the Roper River area. The armed men rode into the camp and shot the old women. The men heard the shooting, ran from this spot to see what was happening, saw their wives being shot dead, so they attacked the killers with spears. The rifles were too much for the spears and the tribes were driven back to a large lagoon nearby. The men who went into the water was shot and killed. Other women shot and killed at the camp. Young women, children and men were captured by Bill Harney's men. Bodies were lying everywhere. Those hiding in the bushes watched Harney and his men start their journey back, taking with them, the captives. This is not the end of the story. He returned next year and collected skulls of the people he'd murdered, and later he sold them to a museum and made a lot of money. Again Harney came back. He went to Trial Bay, there our people killed two of his men [see Ryko photograph above]. And after being at Trial Bay he went to Birany Birany on the coast. There, he and his men shot women gathering nuts. But most people survived by running in the bush. And he went back and the next year he came back for the skulls." 
Bowson's
 Waterhole Massacre
Tjuki Tjukanku Pumpjack told a story about Bowson's Waterhole on Angas Downs Station, now known as Areyonga.  
"Out in the middle there, over there on Angas Downs, in the middle, this side of Wilpiya, naked Anangu showed up at an old waterhole. You know, they didn't know about trousers, don't know clothes. Those naked Anangu they came from the west, came along when there were rations. They started getting rations, clothing, everything. Nowadays they're a bit flash, almost whitefellas. Yes, they sat and ate, naked. They speared a lot of cattle. They didn't understand properly. You know, they were spearing cattle those naked men, long ago. And McNamara, he shot them. Pow! Pow! Long ago, this side of Areyonga. Today they say he shot many. It happened a long time ago. They come from that way, Ayers Rock way was their country." 
Pumpjack's account is corroborated by Tim Rowse, among others. 
"Bowman's memoirs, evidently written in the 1980s, do not reveal him to have been an advocate or practitioner of violence against Indigenous people, but he told Mervyn Hartwig in 1960 that, ultimately, 'good' relationships had flowed from the shootings around Coniston. Guns are known to have been used in 1921, when the pastoralist McNamara killed an unknown number of people (estimates range from six to twenty-five) at Bowson's Hole—because a milking cow was speared." 
Bowgan
, Corella Creek and Fish River Massacres
These were a genocidal massacre that rolled over four years between 1892 and 1896. The official [white] version is that the "terrible murder" of two white men was committed by "blacks" at Creswell Downs, the "unfortunate men" being Charles Deloitte and George Clarke. 
The Aboriginal version of events is markedly different. Jack Cotton Mobalily, a Wambaya man from Brunette Downs, said that Tom Perry—recalled as Jack Berry—discovered a body and a punitive expedition was planned for which those involved agreed to start shooting at a pre-arranged time. 
"And when the shooting started, they start to follow them people now, Jack Berry and his people, workin' men he had…they could only find the tail. All the old ladies couldn't run fast enough. Well, those few ladies, mother of this mob, he's got…So they shottem, shot all these old ladies. Shottem. Keep further on and they were shootin' all the way along up the river then." 
Harry Bate from Eva Downs refused to be involved and offered safe haven to Aboriginal people fleeing the violence. Mobalily continued. 
"But this string of blackfeller went bush, you know, and this old feller that was telling me the story, he was a small boy, this old man. He was with the lead, with his father. He got to Eva Downs. It must have took 'em few days to get there, but they got to Eva Downs. That's why the never get shot, that mob. Old Harry Bate told them not to shoot any people here, and don't come here to shoot. He saved the bloody mob there. Thousands of them. That's the story the old man told me." 
Abner
 Range Massacre
A massacre occurred in 1892, on top of the Abner Range, 100km from where Lenehan had been killed, where the party of 22 went after about "70 or 80 fleeing Aboriginals." The fleeing group went to the top of the Abner Range, thinking the horses would not be able to reach the top. The horsemen did find a way to the top and followed the tracks left behind to an Aboriginal camp.  
Tony Roberts wrote in The brutal truth: What happened in the Gulf country that the men, in pairs, formed a half-circle around the sleeping camp—some of them as close as 20 metres. On the far side of the camp was a sheer, 150-metre drop. The numerous small fires were evidence of a large number of people. Curtis said he would fire first, as soon as it was light enough to see. Shooting sleeping victims at first light was a standard method. Exhausted, the occupants of the camp slept soundly. But, at times, according to Gaunt, 'we could hear a piccaninny cry and the lubra crooning to it'. When it was finally light enough to see, an Aboriginal man sat up and stretched his arms. 
"Smith fired and the police boy with me fired at the sitting Abo. The black bounced off the ground and fell over into the fire, stone dead. Then pandemonium started. Blacks were rushing to all points only to be driven back with a deadly fire… One big Abo, over six feet, rushed toward the boy and I. I dropped him in his tracks with a well-directed shot. Later on, when we went through the camp to count the dead and despatch the wounded, I walked over to this big Abo and was astonished to find, instead of a buck, that it was a splendidly built young lubra about, I should judge, sixteen or eighteen years of age. The bullet had struck her on the bridge of the nose and penetrated to the brain. She never knew what hit her… When the melee was over we counted fifty-two dead and mortally wounded. For mercy's sake, we despatched the wounded. Twelve more we found at the foot of the cliff fearfully mangled."  
Below the cliff was the head of a creek, which Tom Lynott named Malakoff Creek, after a bloody battle during the siege of Sevastopol in the Crimean War. 
When a camp was attacked in daylight, the whites were usually mounted and, unless the country was open and flat, it was often possible for a number of occupants to escape. In some cases they watched in horror, unseen, as whites dispatched the wounded. Adults and children received a bullet to the brain, while babies—whether injured or not— were held by the ankles "just like goanna", their skulls smashed against trees or rocks. A crying baby left behind when Garrwa people fled a camp on the Robinson River was thrown onto the hot coals of a cooking fire, still crying. 
Mistake Creek Massacre
In this massacre of 1890, 60 Aboriginal men were in neck chains under police escort from the Victoria River region to Wyndham for alleged cattle stealing. One beast was killed. They were camped at a creek when police received a telegraph instructing them to release the prisoners because the culprit—just the one—had been found elsewhere. Apparently that was too much bother. While they were chained together at the neck police shot them dead after which they were thrown on a fire and burnt.  
When you're looking at place names, consider the types of names that are used and think about how or why something was named. Mistake Creek was named after and because of that massacre. Here are some others: Massacre Hill; Skull Creek; Attack Creek; Blackfellow Bones Bore; Black Gin Creek; Waterloo; Niggers Leap; Nigger Creek; Black Fella Island; Black Hill; Black Bore; Policeman's Crossing; Poison Creek; Poison Creek Bore; Malakoff Creek. All of them are clues for massacres research. 
The 
interpretive 
value of art
 Artwork, too, is a principal way that Aboriginal people record their oral history. This one's called Remembering the Directions in which People Fled, by Ruth Napaljarri Oldfield from Yuendumu.  
 And this is a spectacular series of portraits by Teresa Richie called Lead in my Grandmother's Body. Each of those individuals in the portraits, including the children, have a bullet. The men have the bullet between the teeth; the children, in their hands. It's really striking work. They are Yanyuwa people from the Gulf country and they are still dealing with the massacres that took place there.  
 Libraries 
I want to mention libraries. There are innumerable libraries in outback Northern Territory. And by that, I do not mean buildings. I mean people Aboriginal people who carry this knowledge in their heads and pass them on through oral histories and teaching ceremonies. I need to become a member of some of those libraries so that I can speak to people who hold that knowledge—if they are willing to do so—because they will be the key to revealing the massacres we don't yet have recorded. 
Conclusion 
The Frontier Massacres project is incomplete, and probably always will be. We don't know whether we'll finish it. We have no way of knowing. Figures recorded in the map database are conservative for those killed, so just bear that in mind when you're looking at the map.  
Australia has yet to acknowledge frontier massacres. The NT has the highest average number of victims per massacre at 40.19, which is marginally higher than New South Wales at 39.37.  
Bear in mind that massacres were probably a lot easier to accomplish in the Northern Territory because of the vast areas, the lack of police presence and the absence of soldier garrison groups. Individuals could engage in whatever barbaric behaviour they chose and they could remain unseen, which may or may not explain why we seem to have the highest average. 
---
Dr Robyn Smith is a Conjoint Fellow at the University of Newcastle, a PhD (Political History), Master of Cultural Heritage and Bachelor of Arts (Journalism & Anthropology) from Darwin. She is well written on the history, heritage and politics of the Northern Territory and is presently researching frontier massacre sites in that territory.
(Visited 4,051 times, 1 visits today)