By Roxanne Fitzgerald
Expert medical and police evidence will be allowed during the committal hearing of a Northern Territory police officer charged with shooting dead 19-year-old Kumanjayi Walker at his home in Yuendumu in November 2019. 
Constable Zachary Rolfe was charged with murder following the incident and has said he intends to plead not guilty. 
Mr Rolfe attended the Alice Springs hearing via audio link from Canberra. 
Following a string of disagreements between the prosecution and defence lawyers over a number of witnesses, the list was finalised yesterday.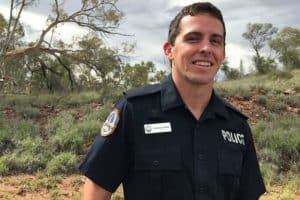 The main objections concerned the questioning of police officers who were not present at the time of the shooting incident about the training they had received, and what was known about Mr Walker's alleged "previous violent disposition". 
The finalised list, which include one police officer and medical experts, will provide evidence during a four–day hearing which will determine whether there is enough evidence to put the officer on trial for murder in the Supreme Court.  
Alice Springs Judge John Birch yesterday said he would not allow the questioning of two police officers about their involvement in an incident which involved Mr Walker allegedly swinging an axe against the police officers as they attempted to arrest him.  
He said evidence obtained from the officer's statements and body worn cameras included in the evidence brief would suffice.  
"Both have given detailed statements of their involvement in the axe incident at Yuendumu on 6 November 2019," Judge Birch said.  
"Their evidence also includes the body-worn video." 
Evidence of damage to Yuendumu medical centre will be heard
However, evidence about Mr Walker's possible involvement in damaging the Yuendumu medical centre, 300km from Alice Springs, in the days prior to the night of the shooting will be heard.
"Leave is granted to cross-examine the officer to any knowledge the officer had at the relevant time regarding the deceased's involvement with the medical centre incident and whether that knowledge was conveyed to the defendant," Judge Birch said.  
He said the line of questioning would help "assist in adequately defining the issues surrounding the medical treatment of the deceased, knowledge the defendant had at the time about the incident and need to adequately define the issues which may arise at trial". 
A Northern Territory forensic pathologist will also provide evidence during the hearing and has been granted permission to view the body worn camera footage.  
Judge Birch said the body worn camera footage would assist the witness in formulating an opinion on whether the deceased may have been a "direct physical threat" as he was allegedly holding a pair of scissors at the time of the shooting.  
Three additional doctors were also granted permission to be questioned on the same basis.
(Visited 455 times, 1 visits today)