By Roxanne Fitzgerald
At 73 years of age, Graeme Hockey has had more than a dozen jobs in his lifetime, but he's never endured a more "frustrating" process than applying to be a mango picker in the Northern Territory.  
Never has a process been more obstructed by what he calls "endless impediments".
"No sane person would go through this effort to give a few weeks work to help save an industry," he said.
"What should have been a simple job of filling in a couple of forms and making myself available has been days of frustration."
When border closures cut off the flow of international seasonal workers, Australians who had lost their jobs to the coronavirus pandemic were called on to save the NT's fruit crops from being left to rot.  
The NT Government shaped its campaign around becoming a "local hero".
Learn new skills, make friends, earn good money and help farmers while working near iconic locations, were the campaign's other drawcards.
It sounded good, so the retired Mr Hockey hit the google machine, searching mango harvesting jobs with no luck. Undeterred, he decided to do it the old fashioned way and pounded the pavement out to the NT Farmers office at Coolalinga to introduce himself, where he was directed back to the computer.
A friendly employee attempted to help him but in confusion herself, sent him to different NT job sites that didn't produce the desired results. The next day he hit up the NT Job Shop on Cavenagh Street but found the office closed, so he phoned and left a message.
Mr Hockey was then sent a five page form to fill out that assumed he was on Centrelink benefits. More phone calls were made to explain his situation.
Then they wanted a resume to pick mangoes, he says.
Mr Hockey said he informed them of his agriculture degree and his 50 years employment in the agriculture industry and land management experience with the NT Government which he says could "possibly stand me in good stead for picking mangoes" but they still wanted a resume.
"The technology barrier was a minor thing, the major thing was actually getting in contact with someone who could help," he said.
"It was barrier after barrier. I have never worked in an environment where there are endless impediments in front of me and that appears to be what the government is doing today."
The mango industry is worth around $112 million each year to the NT economy, and provides around 52 per cent of the national crop. So, a lot was at stake not only for the Territory but also Australia's wider mango-loving consumers.
When complaints from want-to-be pickers over bureaucratic red tape rolled in, president of the NT Mango Industry Association Leo Skliros was rightly worried.
Confusing process is a barrier to fruit pickers 
Mr Skliros, who is also the owner of Skliros Produce, one of the oldest established mango orchards in the Darwin region, corroborated Mr Hockey's account.  
He said he was bombarded with phone calls as people struggled to navigate a confusing website most likely "constructed by highly intellectual government people".  
"I had a lot of people coming to me directly looking for work, and when I asked if they had registered, they said they didn't want to go through the trouble. 
"It was great to get this [campaign] off the ground, but it is disheartening when the process has not been run all the way through."  
As the NT Government launched its campaign on August 13, titled 'be the pick of the bunch campaign', NT Farmers chief executive officer Paul Burke, highlighted that "anyone can apply to do fruit picking – all you need is a good attitude, [and a] willingness to learn". 
But Mr Skliros said a taskforce behind the initiative was needed to clear up confusion and link employees with employers.  
The Territory is the place to be, as long as you have a spare $2,500 
The official start of the mango season is still a couple of weeks away, and usually lasts six to eight weeks.  
As border restrictions eased over the past few weeks, clearing pathways into the Northern Territory, domestic workers jumped the gun and headed up, Mr Skliros said, easing concerns of a severe shortage.
And the Federal Government has also allowed up to 170 workers from Vanuatu to pick under the seasonal worker program,with costs for charter flights and quarantine picked up by the NT Farmers Association.
"As we've seen, trying to get locals is difficult," Mr Skliros said.  
"Without these workers coming over we would be dealing with two potential shortfalls. (Now) we have groups of 30 or 40 just waiting to start work.
"They are saying the Territory is the place to be, it is warm, and they don't have to wear masks." 
Workers arriving in the Northern Territory will still have to undergo 14-days of quarantine before commencing employment, but the NT Farmer's Association says  industry will pay the cost. 
NT Farmer's Association chief executive Paul Burke said the industry would pay for charter flights to bring in the foreign workers on top of mandatory quarantine, which would cost about $500,000 in total.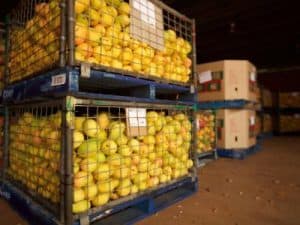 Prior to the pandemic, working holiday visa holders made up 65 per cent of the NT's fruit picking workforce. But in April of this year, Prime Minister Scott Morrison called for international travellers to return to their home countries.  
More than half of holiday working visa holders heeded that call, dropping from 140,000 to around 70,000.
"As long as borders stay open, and the workforce is uninhibited, we should be okay," Mr Skliros said. 
However, the $2500 mandatory quarantine cost is still an issue for Australians coming up to help out.
While it may have saved the government money in the short term, at a time when the Territory's population is rapidly declining, the decision to charge that much for quarantine could have significant impacts for the future, Mr Skliros says.  
"I agree that people coming for a holiday should have to pay, but for someone coming for a job in horticulture it's a different story," he said.
"Workers have asked me to wear the cost, but at the end of the day growers don't know what the market will be like." 
Before a mango is picked or sold, Mr Skliros would have to fork out $225,000 if he was to pay the quarantine for each of his workers, around 90 for the season.  
"We have already had to spend money on getting our farms ready to adhere to COVID-19 working requirements, to whack on quarantine costs on top of that would be a massive cost to the industry," he said.
The costs are not only too much for the industry, but also for people packing up their lives for six to eight weeks of interstate work picking fruit, Mr Skliros said.
"Whack a $500 plane ticket on top of quarantine, that is $3000, and if someone is only doing six weeks of work, they've already lost $500 a week," he said.
"If you look at [JobSeeker], they might as well just stay at home."  
(Visited 1,622 times, 1 visits today)