Prime Minister Scott Morrison's proposed new bill that would ban state and territory governments from entering into agreements with China without federal approval is not expected to affect the Darwin Port lease, but will provide greater scrutiny around Chief Minister Michael Gunner's dealings with China, a Darwin-based Chinese policy expert says.
The Foreign Relations Bill, expected to be introduced to Parliament next week and passed later this year, will clarify the Commonwealth's constitutional powers to oversee state, territory and local governments' dealings with China and provide veto power for any current or future arrangements.
The new legislation will give the Foreign Minister power to review and ultimately kill deals with China or other foreign powers that are determined not to be in the nation's interest.
The new bill will also extend to agreements signed by councils and universities.
At a press conference announcing the legislation on Thursday morning, Mr Morrison called the 99-year Darwin Port lease to Chinese-owned Landbridge "a problem" because the Commonwealth at the time was unable to take any action before it went ahead.
"That was not a matter which the federal laws (were) enabled to be brought for federal government approval," he said. "And that's why I had that fixed with the cooperation of the states and territories … to ensure that was dealt with, so that those circumstances wouldn't be repeated.
"But obviously if we identify other things that are necessary to protect Australia's national interest, you will never find me hesitating."
Under the new legislation, all existing state, territory and local government agreements will be vetted by Foreign Minister Marise Payne within six months of the Bill passing and future agreements will need her approval before proceeding.
Charles Darwin University fellow in law and Chinese policy expert John Garrick told the NT Independent the port deal will most likely not be scrapped or changed under the proposed legislation.
"With the port deal, there is government infrastructure that has come under a commercial agreement with a foreign-run company," he said. "It will probably be checked. I would be surprised if the port deal was overturned, unless something arose in the audit of projects considered, that indicated there was some kind of threat to Australian security."
Mr Garrick said the new legislation was a way for the Commonwealth to more clearly exert its constitutional powers over the states and territories when it comes to foreign policy.
"This is not controversial in that sense," he said. "The feds have that power, they're just clarifying that power in respect to foreign policy."
The legislation will also make it mandatory for state and territory governments to publicly register all agreements signed with foreign countries such as China.
'Deals that are hidden from public view … will be caught by this legislation': Garrick
Chief Minister Michael Gunner signed a secret deal in Shenzhen, China while on a trade mission last October that his office has repeatedly refused to publicly explain. Typically, government officials will announce what agreements are signed in foreign countries, but that did not happen during the last trip.
A Freedom of Information application to Mr Gunner's department requesting details of the deal has been repeatedly delayed. In Parliament in May, Mr Gunner claimed it was a "sister cities arrangement" but that has not been verified, nor any explanation offered as to why the Territory government would be involved in municipal affairs.
The NT Government also did not list the agreement in a release of arrangements with China provided to the ABC earlier this month.
Under the new legislation, it's expected that arrangement and a previous deal signed with Shenzhen-based Donghai Airlines will be investigated by the Foreign Minister.
Mr Garrick said the new legislation will provide greater transparency on state and territory governments' foreign dealings.
"There will have to be consultation (with the Federal Government) and there will be greater scrutiny, increased transparency and greater accountability," he said.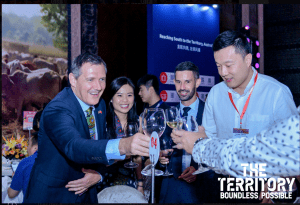 "Deals that are hidden from public view and signed in foreign environments, those sorts of visits like the one the NT Government undertook last October, would absolutely be caught by this legislation.
"Those (trade missions) will have to happen with greater levels of scrutiny and there will be a test applied by the Foreign Minister in relation to what's going on and the effect on Australia's foreign relations and whether it's consistent with Australia's foreign policy."
Mr Gunner's office declined to comment or answer questions for this story.
Council and university deals to also be scrutinised
The legislation will also cover sister cities deals and other arrangements signed by local councils.
Darwin Mayor Kon Vatskalis told the NT Independent all deals the council signed with China do not have any impact on Australia's national interests.
"Our sister city agreements date back to the 80s and we never had any problem with political interference," he said. "These agreements are very basic and are the basis for bilateral relationships with local councils only and do not in any way involve political, commercial or any agreement that may impact the nation. We are too small for it. We let the Commonwealth and the states deal with it."
It's expected Australian universities' deals with the Confucius Institute will be reviewed, including Charles Darwin University, as well as all current arrangements with China and other foreign governments.
A CDU spokeswoman said the university has participated in the Federal Government's University Foreign Interference Taskforce which established best practice guidelines for collaboration with foreign parties.
"It is too early for the university to respond in greater detail as we have yet to have the opportunity to consider all aspects of the proposed Foreign Relations Bill," she said.
Mr Morrison's new bill is expected to directly affect Victorian Premier Daniel Andrews' Belt and Road Initiative deal signed with China late last year and could be killed if found not to be in the country's interests.
Mr Morrison said he informed all national cabinet leaders about the sovereign threat posed by China three weeks ago.
"I arranged for all premiers and chief ministers to know what I know about Australia's national security issues and interests and that was a very useful briefing," he said. "What we've announce today is therefore not unsurprising or unexpected on their part."
(Visited 895 times, 1 visits today)