UPDATED: NT Police have released CCTV footage of a "vehicle of interest" that was travelling along Vanderlin Drive in Karama around the time a five-year-old boy was struck by a hit-and-run driver at a pedestrian crossing and sent to hospital.
NT Police are calling for the public's help to identify the driver of the silver sedan, now believed to be a 2002-2005 Ford Falcon, possibly an XR6 or XR8 that allegedly struck the boy further along Vanderlin Drive in Leanyer on Monday afternoon.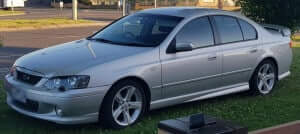 Police said the car was heading towards Casuarina at around 5:25 pm near the Leanyer waterpark when the incident occurred, with the driver of the vehicle failing to stop and continuing towards Casuarina.
Witnesses provided first aid before St John Ambulance arrived. The boy was taken to Royal Darwin Hospital where he remains in a stable condition with leg and arm injuries.
Police are calling on the driver to turn themselves in.
"With assistance from the public, it really is only a matter of time until we identify your vehicle," said Officer in Charge of Major Crash Investigation Unit Brendan Lindner.
"If you were the driver involved, I urge you to do the right thing and notify police".
The boy's mother told the ABC her son was crossing at the pedestrian crossing while on his scooter with his brother and a friend.
"They've done the right thing and waited for the traffic and unfortunately one guy didn't stop," she said.
"He suffered two broken legs, a shattered shin and a suspected broken elbow as well."
Witness Yianni Zaroufis told the ABC the boy was flung 20 metres by the force of the collision.
"I watched these three kids. The first two got [across the road] fine," he said. "The last boy about halfway. I heard a loud bang — a silver Ford — something like that.
"Then I watched the kid go flying. Scooter in the air. Him in the air."
Anyone with information or who was travelling in the area, particularly anyone with dashcam footage, is urged to contact police on 131 444 or CrimeStoppers 1800 333 000, quoting reference number 9428828.
(Visited 966 times, 1 visits today)