An Alice Springs motorcyclist who was struck by an allegedly stolen car last week has died in hospital, NT Police have confirmed.
47-year-old special needs care provider Shane Powell was left in critical condition after being hit by the allegedly stolen vehicle occupied by a group of five youths and was on life support for the last week until it was turned off today.
The incident has become a flashpoint for the town of the out-of-control crime in Alice Springs that has greatly upset many in the community, with news of the death of Mr Powell reaching the floor of Parliament Thursday afternoon.
In a social media group Alice Springs community forum page earlier Wednesday, local Wayne Thompson had announced Mr Powell was taken off life support.
"It is with deep sorrow that I bring the news that the life support for Shane Powell will be removed sometime today," he said.
"The doctors who have fought tirelessly can do no more and Shane's injuries to the brain are just too great.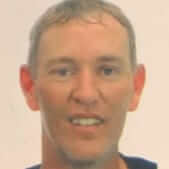 "On the night of the accident Shane was on his way home from work after settling one of his clients for the evening as a special needs carer. Shane really loved his work and was at the top of his game.
"Please join with me in supporting Shane's mother who is 72 and recently recovered from a heart attack, his sister and brother all of whom will grieve his loss for years to come.
"Shane was the main support for his mother in her convalescence as well as financial provider, so a big hole has been torn in her life other than losing a son."
A fundraiser set up for the Powell family after the incident had raised more than $3300 as of October 20.
'Your lack of leadership has contributed to this': Lambley to Chief Minister
The death reached Parliament House on Thursday, as Alice Springs MLA Robyn Lambley pleaded with Chief Minister Michael Gunner through tears to take immediate action on the out of control youth crime problem in the beleaguered town.
"Your lack of action and your lack of leadership has (contributed) to this," she said, her voice breaking up.
"We've been calling for you to do something for so long, what you've done is too little, too late."
Mr Gunner said the event was "absolutely tragic".
"I think all of us in this chamber express absolute sympathy for the family and friends of the gentleman who passed away," he said.
"We know there are no quick fixes there is only hard work and constant hard work. We have absolutely taken efforts both last term and this term (of government) in Alice Springs and other places to make sure we've got more resources on the frontline and that those resources have the support they need to do their jobs.
"We don't want to see victims and we certainly don't want to see grieving families. We all want whoever is found guilty of this offence to face the full consequence of the law."
Mr Gunner pointed to a few extra police officers being deployed to Alice Springs as part of a new task force this week as proof he was finally taking action on the problem.
Meanwhile, NT Police said Thursday afternoon the four young offenders and one 19-year-old man will now face upgraded charges.
On October 15, the group allegedly stole the vehicle and ran a red light on the Stuart Hwy, colliding with Mr Powell's motorcycle as he travelled west on Stott Terrace towards Larapinta Drive.
Three were located with a drone and CCTV footage, before being stopped using tyre spikes on Grevillia Drive.
The victim, Shane Powell, was brought to the Alice Springs Hospital but was already in a critical condition with serious head and chest injuries and was airlifted to Royal Adelaide Hospital where he died on Thursday.
The three youth offenders involved in the incident will appear in court tomorrow.
One man has been remanded in custody to appear at a later date, and the another will appear in court on November 3, NT Police said.
(Visited 1,886 times, 1 visits today)